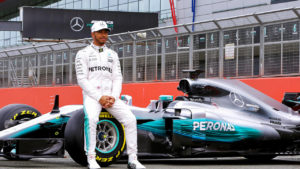 Lewis Hamilton has claimed his 100th pole position in Formula 1 from 270 starts.
He hit the landmark number qualifying for the Spanish Grand Prix.
Afterwards the current world champion said:
"I don't really feel like I can compute it right now.
"It's a huge number.
"I don't know how I'm supposed to feel but I am excited it's so close and it felt amazing.
"Qualifying is so special.
"When you come across that line and find you are just ahead.
It's such a big number it's hard to express just how crazy and amazing it is."
Former team-mate Jenson Button said:
"Lewis has always been absolutely stunning when it comes to qualifying.
"From his first race in Formula 1 until now, it has definitely been a strength of his.
"It's in the race that he has improved over the years – his understanding of a race car and getting from A to B as quick as possible."
The closest rival to Hamilton is former champion Michael Schumacher scored 68 poles in his career.