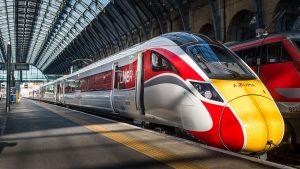 Some of Britain's high speed train services have been suspended after cracks were found in carriages.
People have been told not to travel on trains run by Great Western Railway and London North East Railway.
Inspections are being carried out on more than 1,000 trains after "hairline cracks" were discovered.
The problems were spotted during routine maintenance.
A GWR statement said:
"Due to some of our Intercity Express Trains being withdrawn from service for precautionary checks, there will be network wide disruption to services today.
"Please check before you travel."
And LNER said:
"We are experiencing significant disruption.
"Please do not travel today.
"Your tickets will be valid up to and including Sunday 16 May 2021 (a new reservation must be made).
"If you choose not to travel at all, you can claim a refund from your point of purchase."