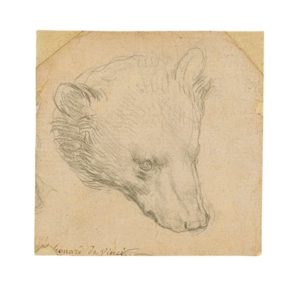 Picture: Christie's
A three inches squared drawing of a bear's head by Leonardo Da Vinci is expected to make £12 million at auction.
"Head of a Bear" is a silverpoint sketch on pink-beige paper.
It is only one of handful still in private hands.
The current owner has held the picture since 2008.
Stijn Alsteens, Christie's old master expert, said:
"I have every reason to believe we will achieve a new record in July for 'Head of a Bear', one of the last drawings by Leonardo that can be expected to come onto the market."
The drawing will be sold in London by Christie's on July 8th.
It will be on show at the auction house during June.
The expected price tag will beat the 2001 £8 million sale for Da Vinci's "Horse and Rider".