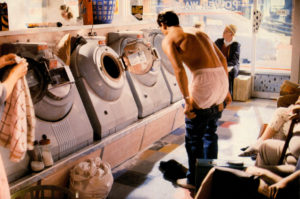 Model and singer Nick Kamen – who made Levi 501 jeans even more famous – has died. He was aged 59.
Kamen first came to notice stripping off his Levi's in a launderette in a 1980s television advert.
His brooding good looks caught the eye of Madonna who took the burgeoning singer under her wing.
Madonna tweeted:
"Such a kind and sweet human. It breaks my heart to know you are gone".
Kamen – real name Ivor Neville Kamen – was born in Harlow, Essex.
He was the cover of The Face magazine in 1984 and picked for the Levi's commercial the following year.
Against the soundtrack of Marvin Gaye's "Heard It Through The Grapevine" Kamen strips off down to his crisp, white boxer shorts before putting his blue jeans in the washing machine.
Sales of Levi 501s soared – and a star was born.
Madonna contacted him and offered to produce and sing on his records.
Kamen, who died on Tuesday, had been ill for some time with bone cancer.