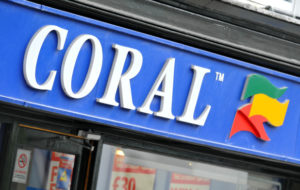 A punter has won £374,000 with a £1 bet after predicting seven scores on an accumulator.
The man from Liverpool placed the gamble with the betting shop Coral.
He guessed the right scores across games played in England, Italy, Spain, and Portugal.
The man, in his late 50s, wishes to remain anonymous.
He said:
"After the first two results came in and I realised the bet was still alive.
"I began to follow the other matches, and it wasn't easy following the results from around Europe, especially as each one became a winner.
"I got more and more nervous.
"There were late goals in a couple of the games, which only added to the nerves, and when the seventh result came in, I couldn't believe it.
"When I checked with the staff in the shop and they confirmed it was a winning bet, I had to pinch myself!
"I didn't get much sleep for a couple of nights, and even now it's only just sinking in.
"This is a life changing amount, and while we'll be investing lots of it, we'll also celebrate in style.
"I do follow the football around Europe, and I like to place a £1 bet on the football most weekends, sometimes it's just a double or treble.
"But last weekend for some reason these seven matches all caught my eye.
"I could never have imagined winning so much money, this really is my bet of a lifetime."
Coral spokesman John Hill said:
"This is one of the most extraordinary winning accumulators you are ever likely to see. The plucky punter from Liverpool has gone across Europe to find seven correct scores and has been rewarded with a huge pay-out for just a £1 stake."