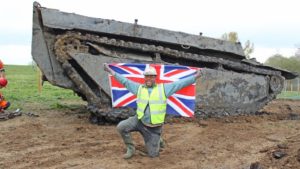 A WWII landing vehicle has been unearthed after being buried for 47 years.
Volunteers took five days to dig up the tank last seen in 1947.
The tank was one of 16 sent to Crowland, Lincolnshire, to help defend the area against flooding..
Five were lost in the floods as the River Welland burst its banks.
Daniel Abbott, chairman of the Crowland Buffalo LVT group, said the tank was in "fantastic condition for its age."
He added: "This is something I have been working on for three years, and I never dreamt in five days we would have one out above ground for people to see.
"I've always said I wanted to get one out in time for the 75th anniversary and we are ahead of schedule now.
"But I remember as a young child my great-grandparents telling me there were amphibious vehicles around the site.
"I just want to thank everyone who has helped in this project."
It's thought that the recovered Buffalo would have been used to cross the Rhine in March 1945.
The tank, which is 26 feet long and weighs 20 tons, was buried 30 feet underground in the Fens.