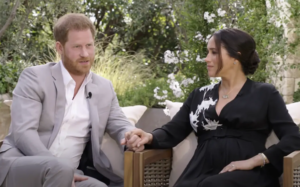 A royal expert claims Prince Harry is "regretful and embarrassed" by his interview with Oprah Winfrey.
Duncan Larcombe – who wrote the book "Prince Harry: The Inside Story" – said the prince was initially "hurt and angry" about the way his family treated his new bride, Meghan Markle.
And, given his "hot-headed" temperament, made an impulsive decision to agree to the tell-all interview.
Larcombe said:
"Harry was clearly hurt and angry about Meghan's experience with the royals – and used the interview to get it out
"But after returning home, I've no doubt he's been feeling embarrassed, regretful and awkward.
"He's now facing the consequences.
"I believe he'll regret that interview – and maybe his decision to leave the royal family."