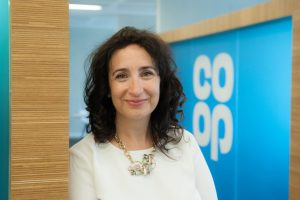 Jo Whitfield, Co-op executive
The Co-op is the latest supermarket chain to stop selling plastic "bags for life".
The decision will remove nearly 30 million bags – about 870 tonnes of plastic – from circulation each year.
The Co-op – which has 2,600 shops – said many people use the 10 pence bags just once before throwing them away.
The bags will be replaced with compostable carriers – also costing 10 pence – when current stocks are ended.
Jo Whitfield, Co-op Food chief executive, said the increased use of bags for life had led to a sharp rise in plastic use.
She added: "With over 1.5 billion bags sold each year by retailers, this remains a massive issue for our industry as many shoppers are regularly buying so called 'Bags for Life' to use just once and it's leading to major hike in the amount of plastic being produced."