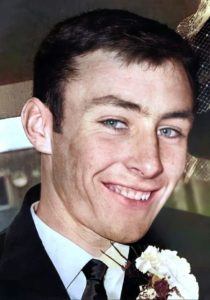 Library picture: Joe McCann
An IRA commander allegedly shot dead by two paratroopers was responsible for the deaths of 15 British soldiers, a court was told.
Joe McCann was also involved in "punishment and reprisal" attacks in his own Belfast district.
He also organised "tarring and feathering".
Court documents revealed McCann was known to lure Army patrols into an ambush and open fire from hidden positions.
Two former British soldiers – identified as A and C – are accused of murdering the IRA man in April 1972 during The Troubles.
The Diplock trial – held before a judge and no jury – was told Mr McCann was shot in the back as he tried to escape soldiers trying to capture him.
The 24-year-old father-of-four was unarmed.
The prosecution described the victim as a "most dangerous" member of the Official IRA.
Both soldiers A and C feared Mr McCann was armed, the court heard.
But after the shooting he told them as he lay dying:
"You have got me cold; I have no weapon."
Mr McCann was shot three times – two wounds were non-fatal but the third caused "catastrophic" internal injuries.
The trial in Belfast continues.