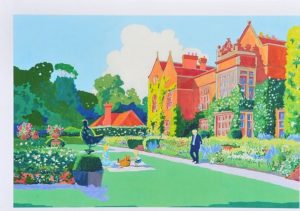 Picture: Mary Casserley
Prime Minister Boris Johnson has bought a picture of his official country residence Chequers from an amateur artist.
Mary Casserley, 54, painted the scene in the style of a pre-war railway poster at her kitchen table.
She sent a copy to the PM "on a whim" and he replied that he'd like to buy the original.
Ms Casserley said:
"I don't normally sell originals, but I do some commissions for £425.
"Everyone's said they hoped I charged him a lot of money and I said 'no', I charged him the same price."
The picture – called Chequers Court – shows Mr Johnson walking the dog Dilyn towards his fiancée Carrie Symonds and their son Wilfred having a picnic on the lawn.
Despite the quick response to Ms Casserley things went "silent".
She chased up his office and payment was made promptly.