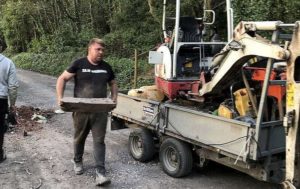 Picture: Ella
A brave woman confronted three builders fly-tipping rubbish at a Devon beauty spot.
The men were caught in the act as Ella – no second name – was feeding her chickens.
The 29-year-old said she heard noises and went to investigate.
When she saw the men, she ran towards them filming and taking pictures on her mobile phone.
Ella can be heard telling the group "you lads better be picking that up".
She snatched the keys from the truck and threatened to call the police.
Ella told Mail Online:
"I was just shutting my chickens away when I could hear a commotion and gravel being poured away.
"I thought no one on the estate would be working 7 pm at night.
"I ran round and saw them tipping everything out, so I got my phone out and ran up and started filming them and their faces.
"There was all this rubbish everywhere – they must have unhitched the trailer to use the van to tip out all the rubbish.
"I then grabbed their keys which seem like a sensible thing to do at the time.
"It was a bit stupid – one girl and three guys.
"We get so much rubbish dumped there because it's quick access off the motorway."
Ella also called her boyfriend who quickly arrived with some friends.
The police also turned up.
Ella said: "My grandad was a policeman so I think I must take after him.
"I wasn't worried at the time – I was so mad I didn't think.
"They [the men] were completely shocked – I just ran through them and filmed them all and they didn't know what to do.
"They weren't nasty – they were apologetic.
"They were picking it all up as soon as they saw me."
Devon and Cornwall Police said:
"Police responded to reports of three men fly-tipping at a site near Chudleigh soon after 8 pm, on Thursday 15 April.
"Three men have been reported for the incident."