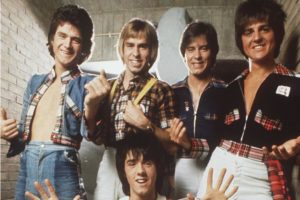 The Bay City Rollers. McKeown left
Bay City Rollers frontman Les McKeown has died suddenly at his home. He was aged 65.
The news was announced on the group's Facebook page.
It read: "It is with profound sadness that we announce the death of our beloved husband and father Leslie Richard McKeown. Leslie died suddenly at home on Tuesday 20 April 2021.
"We are currently making arrangements for his funeral.
"We thank you and ask for privacy after the shock of our profound loss. Thank you. Keiko and Jubei McKeown."
During the mid-70s the Bay City Rollers were hailed as the "biggest group since The Beatles".
The Rollers had legions of screaming teenage girl fans.
They had number hits in the UK and America and sold more than 100 million records.
They were the first boy band – five fresh faced youngsters from Scotland dressed in tartan outfits.
John McLaughlin, the singer's former manager, said:
"I'm still in shock right now.
"I spoke to him last week and he was on great form and happy about life and happy to book his tour.
"We were friends as well as working partners."
He went on: "He was a great singer.
"The Bay City Rollers were the biggest band in the world in the mid-seventies and beyond."