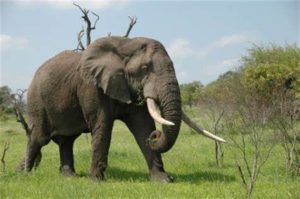 Library picture: Kurger Park elephant
A poacher has been trampled to death by a herd in the Kruger National Park.
Rangers spotted three suspected poachers and gave chase.
One was captured and another escaped.
But the third ran into a herd of elephants.
His body was found later.
The three men were thought to be hunting rhinos for their horns.
Rangers discovered an axe and a rifle.
Gareth Coleman, of the Kruger National Park, said:
"The campaign against poaching is the responsibility of all of us.
"It threatens many livelihoods, destroys families, and takes much-needed resources to fight crime, which could be used for creating jobs and development."