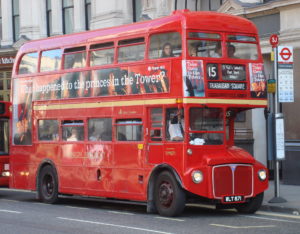 The iconic red London Routemaster bus has been retired from service.
The city's last running heritage service will not reappear after a year's absence through the coronavirus pandemic.
Ten of the open back "hop on – hop off" buses plied the 15H route between Tower Hill and Trafalgar Square.
Stagecoach operated the double-decker service.
It was curtailed to a summer service during 2019 – March to September – but didn't run at all during 2020.
Its absence saved Transport for London (TfL) £825,243 in contract payment to Stagecoach.
TfL said the heritage buses were "not needed for the current and predicted customer demand on the corridor".
Also, they did not meet TfL's Ultra Low Emission Zone (ULEZ) criteria.
Andrew Morgan, of the Routemaster Association, said:
"For the last couple of years, it's been a dreadful operation.
"The route was diverted, it ran with irregularity, its ticketing operation was awkward, but there was also no publicity for the route."