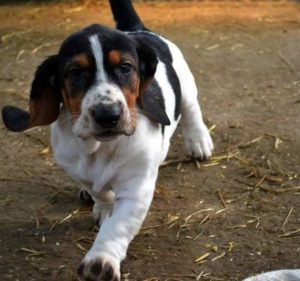 Missing Bashful
Three people have been arrested after the theft of five dogs from a kennel.
Four of the stolen Basset Hounds have been recovered.
But a fifth is still missing – causing concern to her owners.
Two male and three female puppies – Landlord, Bashful, Lattice, Drama and Banish – were taken from Lutterworth in Leicestershire.
All the dogs were chipped.
The dogs were found more than 120 miles away in Manchester after a member of the public contacted Beauty's Legacy – a dog rescue charity.
Lisa Dena, from the group, said: "The owners are relieved that four of the puppies have been found.
"But there is concern for 18-month-old Bashful."
Lisa said the dogs were underweight and had signs of injury.
Greater Manchester Police arrested two women and a man on suspicion of handling stolen goods.
They have been released on bail as inquiries continue.
Sergeant Paul Archer appealed for any information to find missing Bashful.