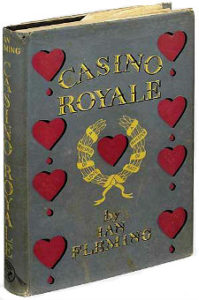 A signed first edition copy of Ian Fleming's Bond book Casino Royale is expected to make £100,000 at auction.
Fleming gave the book to Antony Kemsley.
His father Viscount Kemsley owned the newspaper which employed Fleming as foreign editor.
He gave the budding 007 author time off to write his first James Bond book.
Fleming's contract specified he could take off January and February to write at Goldeneye, his Jamaican home.
After finishing Casino Royal in 1953 Fleming sent Anthony the book.
He inscribed it: "To Tony, Read & Burn, Ian".
Only 4,760 first editions were printed.
Pom Harrington, of London-based rare book dealer Peter Harrington, said:
"Signed and inscribed copies of Fleming's first Bond novel are in themselves highly coveted.
"In this instance the association is particularly charming, showcasing a relationship instrumental in the creation of the character and his enduring legacy."
Fleming, who died in 1964, wrote 14 Bond books that sold more then a million copies worldwide.
Casino Royale was turned into a film in 2006 – giving Daniel Craig his first outing as 007.