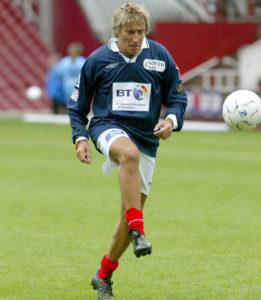 Library picture
Sir Rod Stewart has hung up his football boots after injuring his ankle.
The 76-year-old singer said his ankle had never fully recovered from a tackle by his teenage son Alastair.
Sir Rod told The Scottish Sun: "My football days are over.
"I have a bad ankle injury which I suffered from being tackled by my 15-year-old son.
"I can still kick a ball when needed though."
Football crazy Sir Rod has followed Glasgow Celtic for many years.
He has a full sized pitch at his Essex home and another at his Los Angeles mansion.
In the past Sir Rod has blamed the rock-hard US pitch for his injuries.
Last October he had a successful knee replacement operation.
He said: "I'm suffering for it now.
"When this is all done, I should have a nice straight leg and should be able to run."