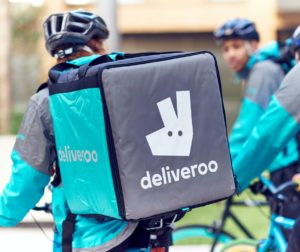 Deliveroo shares were traded as much as 30 per cent down as the company made its London Stock Exchange debut.
Shares recovered during the day – but were still at 15% less than expected.
The shares dropped to below 300 pence per share from the offer price of 390 pence per share.
The loss wiped £2 billion off its valuation.
Several fund managers were said to be concerned about Deliveroo's economics.
The working conditions of its delivery riders also caused some nerves over pricing.
The launch of the Initial Public Offering (IPO) is still thought to be overpriced – particularly for a business that has yet to make a profit.
Neil Wilson, chief markets analyst at Markets.com, said:
"It reflects the fact that even pricing the IPO at the bottom of the range, Deliveroo was demanding too high a price tag for a loss-making delivery platform in a very competitive space with a questionable path to profitability. The books were covered, it was just plain mis-priced."
And Russ Mould, AJ Bell's investment director, said:
"There are multiple ways of looking at the business. Bulls [positive investors] will say the pandemic has made online food ordering part of everyday life and this trend will remain intact once life returns to normal.
"Bears [cautious investors] will say it is a highly competitive space.
"Deliveroo doesn't make any money and that takeaway ordering volumes will ease once the pandemic ends."