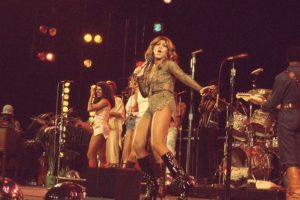 Tina Turner will probably not perform again, claim the directors of a documentary about the singer.
The 81-year-old legend retired after a farewell tour in 2009.
The tour film – Tina – was billed as a long goodbye.
Its directors TJ Martin and Daniel Lindsay have pulled together hours of archive footage – plus interviews – in which she reflects on her life.
Lindsay told the Press Association:
"When we did our first interview with her that was the first thing we talked about.
"It's near the end of the film that she says, 'How do you bow out slowly, just go away?'
"She has lived a remarkable life obviously, but she views her career as work and when she retired in 2009, that was it for her.
"She's not someone who is going to come back and do another show.
"Never say never, but she feels very content in her life now and I think the documentary really comes out of the musical, in deciding to do the musical it brought up a lot of memories and then she thought 'Let's do this, let me put some closure on all of this.'"