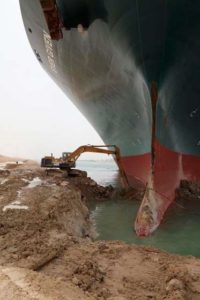 The Ever Given has been partially freed from blocking the Suez Canal, a week after the vessel straddled the vital trade route.
Salvage teams said the ship had been "partially refloated".
And the Suez Canal Authority reported "good news".
Extra tug boats we deployed overnight to take advantage of a high tide.
Satellite pictures confirm the bow of the Ever Given – sailing under a Panama flag – had been dislodged from the canal banks.
Both bow and stern had been firmly embedded into the sides.
More than 300 ships have built up either side of the stricken Ever Given.
Another 300 ships have the canal on their route over the next two weeks.
The blockage has cost more than £6 billion a day in lost world trade.
Its effects on goods' supply are expected to last for some months.
The Suez Canal is an essential trade link between East and West – a short cut that saves ships having to make a 15,000 miles' detour round the southern tip of Africa.
https://twitter.com/i/status/1376379027393482761
BREAKING : EVER GIVEN ship has been UNSTUCK & Moving into #Suez Canal after 6 Days!!

Egyptian crew managed to float it moments ago. It's 5:42 am there: pic.twitter.com/GoMlYjQerL

— Joyce Karam (@Joyce_Karam) March 29, 2021