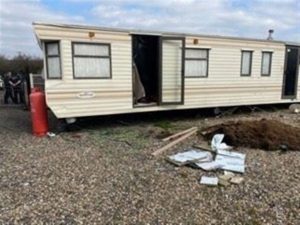 Picture: Nottinghamshire Police – stolen caravan
Police tracked down a stolen caravan – only to stumble across a cannabis farm.
The van was taken from the village of Bleasby in Nottinghamshire and found in Screveton – just four miles across the River Trent
It was discovered at a site.
As officers investigate the caravan theft, they could smell cannabis in the air.
After looking nearby, they uncovered a patch with 56 pots of the drug with a street value of £40,000.
Wildlife officer Constable Jason Fellows, of Nottinghamshire Police, said:
"We take vehicle thefts really seriously.
"Officers are dedicated to investigating this type of crime and taking a proactive approach on any information we receive.
"We have been carrying out enquiries which led the caravan being recovered and reunited with its rightful owner.
"It also led us to uncovering a substantial cannabis grow with a street value of around £40,000 which has now been destroyed and taken out of the drugs circulation.
"Our inquiries continue, and we are determined to get to establish who is behind these crimes.
"If anyone has any information that could help, please call us on 101 quoting incident 123."