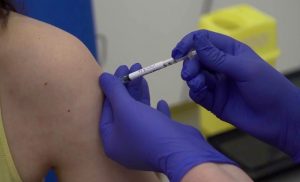 Over-50s are being urged to book a Covid-19 jab before slots dry up.
Professor Stephen Powis, NHS National Medical Director,  said anyone who qualifies for a first dose vaccination should book an appointment now.
The NHS expects a slowdown in serum supply during April.
Medics will concentrate on giving people their second dose, leaving fewer first dose appointments available.
Prof Powis said: "It is a testament to the careful planning and sheer hard work of staff that the NHS vaccination programme is continuing to protect people against coronavirus at a record pace.
"I was thrilled to get my first dose earlier this month, it was quick, painless and safe and it feels great knowing I've got protection against Covid-19 – so if you are eligible, do not delay, book a jab."
Britain and the EU are currently locked in a battle over vaccine supplies.
Prime Minister Boris Johnson has warned a "trade war" would result in "considerable and long-term damage".
In a joint statement, the UK and EU said both sides were looking for a "win-win" deal to increase supplies.
The European Commission is taking steps to prevent the vaccine going to countries who've fared better in rolling out inoculations.
The EU is on the verge of a third wave of cases.