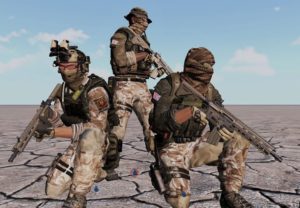 The SAS will be used to disrupt Russian interference in world affairs as part of a defence shake-up.
Other units in the Special Forces Group will also work alongside M16 to counter Soviet meddling.
They will carry out covert surveillance against "hostile state actors".
Russia, China, North Korea, and Iran are known as "hostile states".
Of these, Russia is the most pressing security concern.
Defence Secretary Ben Wallace told the Telegraph Britain must "reinvent" its armed forces for the 21st Century.
He said today's threat has changed beyond recognition" in 30 years.
He added: "Our enemies have infinitely more options.
"Encryption, precision, and information operations complicate the threat picture.
"We find ourselves constantly confronted in the 'grey zone', that limbo land between peace and war.
"So, conflict prevention is more critical than ever."
The Royal Navy will use a "spy ship" to stop Russian submarines trying to damage Britain's Internet by damaging undersea cables.
The Multi Role Ocean Surveillance ship (MROSS) will help safeguard cables that handle 97 per cent of the world's global communications.
Russia is said to use the ship Belgorod to disrupt undersea cables.
The vessel is used to launch a mini submarine called Losharik.
It settles on the seabed and can use a robotic arm to cut or damage cables.