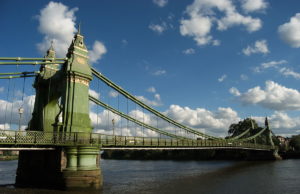 Hammersmith Bridge could become the first toll crossing in London for more than 150 years.
It's planned to charge drivers £3 to cross the West London bridge over the Thames.
The span has been closed to vehicles since April 2019 after cracks appeared in its supports.
Four months later the whole section was shut down – causing traffic chaos to the area; some journeys were taking an hour longer.
The bridge is owned by Hammersmith and Fulham Council.
Plans have been submitted to spend £100 million on repairs and restoration.
The costs could be covered by the £3 charge.
It's hoped the bridge could be open in 2022 to pedestrians and cyclists.
Greg Hands, Tory MP for Chelsea and Fulham said:
"It's now been two years since Labour's Hammersmith & Fulham Council closed the bridge.
"Since then, their rate of progress has been incredibly slow, whilst my constituents suffer from the diverted traffic and the fact that five miles of the Thames is currently uncrossable by even a cat, let alone a car.
"The Council is now saying no person or vehicle can cross the bridge for at least another 15 months.
"This is completely unacceptable to my constituents or to people across south west London or beyond."
Julia Watkins, of the Hammersmith Bridge SOS Residents' Group, said:
"We reluctantly accept a toll – though unfair – may be the only way to fund this scheme without Government support.
"Grant Shapps' [Transport Secretary] has so far refused to make any contribution to bridge repairs urgently needed so tens of thousands of Londoners can reach vital services such as schools, hospitals and the tube, without very long and often dangerous detours.
"Currently we are isolated, waiting for a ferry, first promised for last October and now likely to be delivered in the autumn, whose capacity is totally inadequate for the numbers who cross the Thames daily."