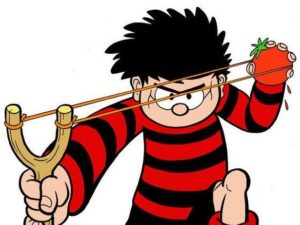 Picture: The Beano
Happy Birthday! The Beano's star character Dennis the Menace is 70 years old.
The tousle-haired mischief was first seen on March 17th, 1951.
Luckily, he's stayed aged ten forever.
With his black and red jumper and faithful hound Gnasher the one-boy whirlwind of fun has kept children – and adults – chuckling at his adventures.
The original Dennis wore a shirt and tie, and Gnasher wasn't around.
Dennis was dreamed up by The Beano editor George Moonie.
He'd listened to a music hall song called Denise the Menace from Venice.
Dennis was the comic's first "naughty boy" character – others were to follow.
Mike Stirling, editorial director of Beano Studios, said:
"Dennis came along after the austerity of the 1940s, after this belief that kids should be seen and not heard, and then all of a sudden you have this character through whom kids can live vicariously.
"He started off as a half-page strip on page five, but he was so successful that by the end of the 1950s you had Minnie the Minx, the Bash Street Kids and Roger the Dodger as well, because the naughtiness was such a success.
"The kids aren't fighting against each other; they're fighting against the grownups.
"Kids were not just being seen but being heard."
In 1974 Dennis replaced Biffo the Bear as The Beano's cover star.
The character's appearance has changed over the years; his shirt and tie were replaced by his red and black jumper.
The colours were chosen because those were the two strongest colours of ink available to printers in the 1950s.
Gnasher, Dennis' Abyssinian wire-haired tripehound, didn't appear until 1968.
He was found wandering the streets after Dennis' long-suffering dad told him that "people always own dogs who look like themselves".
The Beano team consults children across the country each week.
Stirling said: "We ask what's happening in the playground, what they're watching on TV, what games they're playing, and these help us inform the character.
"It makes sure our character is evolving, that Dennis is reflecting the life of a 10-year-old kid in the here and now."
Today, Dennis' fan club has more than a million members.