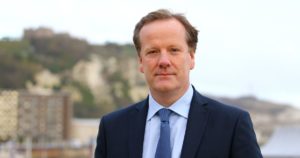 Disgraced sex-pest former MP Charlie Elphicke has lost his appeal against a two-year jail sentence.
Elphicke was called a "sexual predator" after assaulting two women.
One he groped at his family home.
He chased her around the kitchen calling himself a "naughty Tory".
The other woman was assaulted at the House of Commons.
Elphicke's lawyer Rachna Gokani argued at the Court of Appeal that a two-year sentence was too harsh.
He should have been given a suspended sentence.
But Lady Justice Carr, sitting with Mr Justice William Davis and Mr Justice Calver, found Elphicke had no grounds to mount a successful challenge to his sentence.
Justice Carr said Elphicke tried to paint his offending as "isolated and momentary".
But they found the trial judge had been entitled to decide he was a "sexual predator".
Justice Carr added:
"While it is an evocative phrase, it's use did not affect the sentencing exercise.
"The substantive question is whether the judge, in concluding (Elphicke) was someone who without compunction was prepared to exploit women for a sexual purpose.
"In our judgement, the judge was fully entitled to reach the view he was such a person – someone prepared to exploit his position of power and trust in order to pursue his sexual desires, as opposed to being sexually clumsy and unable to read signals.
"He preyed on those weaker than himself, using his success and respectability as a cover."
Ms Gokani said there was "strong personal mitigation" for her client not being sent straight to prison.
She said: "Mr Elphicke lost his career, his marriage, and he lost his personal good character.
"Mr Elphicke hasn't seen his son for six months.
Ms Gokani said the trial judge had wrongly applied the sentencing guidelines.
Sentencing Elphicke, Mrs Justice Whipple called him a "bully" who had used his power and position as an MP to target the victims.
"You are a sexual predator who used your success and respectability as a cover. In each case, you took advantage of your position.
"You then treated what you did as a joke, saying you were a 'naughty Tory' in an attempt to trivialise your actions."