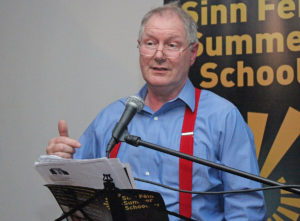 Prime Minister Boris Johnson "outright condemns" former Fleet Street editor Roy Greenslade for supporting the IRA.
Mr Greenslade, who edited the Daily Mirror, provoked anger when he penned an essay admitting his backing for IRA violence.
He said he kept his views from news colleagues because he was unable to convince them "that the killing of civilians, albeit by accident, was justifiable".
After a public outcry he later resigned his position as honorary visiting professor at City, University of London.
He left as a journalism lecturer in 2018.
The PM's official spokesman said:
"All I can say is the simple fact that the PM outright condemns his comments, as I have said specifically those about the killing of civilians."
A spokesman for City said:
"Following the publication of a recent article in the British Journalism Review, Professor Roy Greenslade has tendered his resignation as Honorary Visiting Professor at City, University of London, with immediate effect.
"While acknowledging Professor Greenslade's educational contribution and his right to express his views, the University has accepted his resignation."
Mr Greenslade, 74, said the decision was "purely mine", adding:
"No pressure. Just the reverse."
His IRA sympathies were well known in Fleet Street.
A former Mirror reporter said: "It was an open secret Roy was a 'fan' of the IRA.
"He didn't try to hide his allegiances.
"The newsroom was more interested in his ability to be the editor of great national newspaper."
As Mirror editor Mr Greenslade rigged a "spot-the-ball" competition for a million pounds so that it could not be won.
Simply, the ball was removed from the front-page picture.
He later admitted:
″On behalf of my proprietor Robert Maxwell I fixed a game offering a million pounds to anyone who could spot the ball and ensured that no-one won. Mea culpa, mea culpa, mea culpa".