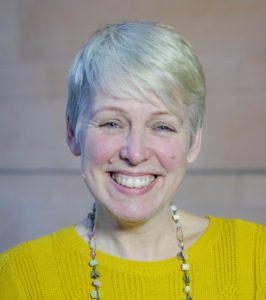 Vistalworks  founder and CEO Vicky Brock
Cyber crime cost the UK economy nearly £200 billion last year.
And it takes £1.5 trillion from the global market.
Authorities claim it is the biggest funding source for organised crime.
It also damages economies, the environment, business, and people.
The National Cyber Centre – based in Cheltenham – runs the UK's "Cyber Accelerator" scheme.
It works with start-up companies to encourage new products, skills, jobs and growth.
It aims to make the UK the "safest place" to live and work online.
The latest company to benefit the scheme is Vistalworks in Glasgow.
The company, which works across the EU, is currently working on targeting the European black market in greenhouse gases known as hydrofluorocarbons (HFCs).
Vicky Brock, founder and CEO of Vistalworks, said:
"These days, the type of crime we are most likely to fall victim to exists online.
"Cybercrime is escalating at an alarming rate and taking part in this programme has enabled us to learn more about the challenges we face.
"We have developed an intelligence solution to help enforcement agencies tackle this, especially as their agents are mostly all deskbound right now, and we can help them to focus their prevention and protection efforts.
"There is an opportunity for Scotland and the UK to harness the skills needed to tackle the global problem of cybercrime and we'll be using the knowledge we have gained to produce tech solutions for agencies across the world."