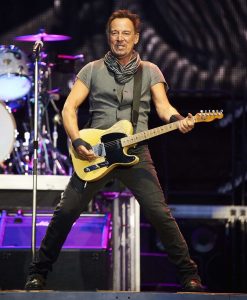 Bruce Springsteen has been fined $500 (£350) after admitting drinking shots of tequila at a beach.
Before the hearing started prosecutors dropped charges of drink-driving and reckless driving.
Springsteen, 71, entered his plea online at the court in New Jersey.
The musician admitted downing "two small shots of tequila" at Sandy Hook  beach – a restricted zone.
District Court Magistrate Judge Anthony Mautone said lawyers agreed to settle the case before the hearing.
He imposed fees of $40 in fees, and then asked the multi-millionaire rock star how long he would need to pay the $540 total.
Springsteen replied: "I think I can pay that immediately, your honour."
The judge said:
"I think you can, but I don't want to compel you to do so I'm going to give you a week to get this done."
After the hearing, the singer's lawyer Mitchell Ansell said Springsteen was "pleased" with the outcome.
A statement added that prosecutors could not prove the more serious charges and that his client had no previous criminal record.
Springsteen was seen by a park officer to take a shot from a bottle of tequila.
He then mounted his British made Triumph motorbike.
There is a ban on alcohol consumption at Sandy Hook which is 10 miles from Springsteen's home.
Springsteen also faced charges of reckless driving and driving while intoxicated.
But Assistant US Attorney Adam Baker said he was dropping both.
Mr Baker said prosecutors could not prove the reckless driving case.
Also, Springsteen's 0.02% blood alcohol level was far below the state limit.