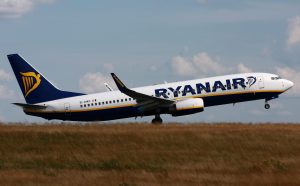 Summer holidays bookings soared by more than 600 per cent as the Prime Minister said international travel could start up in mid-May.
Boris Johnson said "staycations" could resume from April 12th.
Meanwhile, overseas travel can begin from May 17th.
His comments – still with caveats – encouraged thousands of families to book a place in the sun.
Britain's biggest holiday company, Tui, said summer bookings had risen 500 per cent.
The most popular destinations were, Greece, Spain, and Turkey.
And easyJet confirmed flight bookings had gone up more than 300 per cent.
Holiday bookings were up to 600 per cent more.
Spain, Portugal and Greece were the first choice of many looking to travel in July, August and September.
Ryanair, Europe's largest airline, reported a "large surge in bookings" to Spain, Greece and Italy.
Tui managing director, UK and Ireland, Andrew Flintham, said:
He added: "The announcement from the Prime Minister was positive.
"It shows that by working with the travel industry, on a risk-based framework, our customers will have the opportunity to travel abroad this summer.
"We will continue to work closely with the Government so people can look forward to a well-deserved break away, after what has been a very difficult year for many."