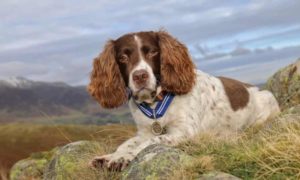 Picture: Stuart Holmes PDSA
English springer spaniel Max has become the first pet to win the animal equivalent of the OBE.
Max, a 13-year-old therapy dog, has won a coveted PDSA Order of Merit.
The honour from the People's Dispensary for Sick Animals has always gone to service animals.
Max's citation reads for "outstanding devotion to their owner or wider society, above and beyond companionship".
The dog lives in Keswick, Cumbria with his owner Kerry Irving.
Max became a social media star after helping Kerry recover from a road accident.
Kerry was unable to walk and suffered severe depression.
However, Max gave him the inspiration to get back onto his feet.
Within a year one man and his dog climbed Ben Nevis.
Kerry, a keen amateur photographer, posted pictures of Max onto a Facebook page.
Hundreds of people wanted to meet Max – now known as Max the Miracle Dog.
To help him make special visits to schools, hospitals and hospices, Max trained as a therapy dog.
Max was soon taking organised walks for charity, followed by large groups of well-wishers.
Since 2017 Max has met more than 10,000 people through personal meet-and-greets, charity walks, public appearances, school visits and book signings.
He has helped to raise £300,000 for several charities including PDSA.
During the Covid-19 pandemic, thousands of people joined him on virtual walks through Facebook Live.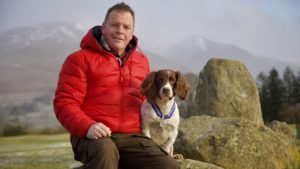 Kerry and Max
Kerry, 46, said: "When I was at my lowest you just want to stay in bed – you don't want to be here when you have struggled with anxiety and depression
"Max gave me a reason to get back outside and enjoy life, and he continues to make me smile every day.
"Being able to share the support, comfort and joy that Max brings to thousands of people has been a privilege."
PDSA director general Jan McLoughlin said:
"Max has provided a source of huge comfort – not only to his owner Kerry, but to thousands of people across the globe who are facing or have gone through hard times.
"He has become a true ambassador for the positive impact that animals have on mental health and wellbeing, which is more important now than ever. "