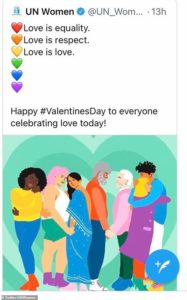 UN Women has removed a Valentine's Day greeting after it showed a lone black woman among "loving couples".
The graphic was posted worldwide to celebrate diversity in love.
However, the black woman was outside the circle.
A backlash from social media quickly made UN Women take down the picture.
The organisation said:
"We posted an illustration on Valentine's Day, depicting love in all its diversity.
"We listened to what you said in the comments and decided to take it down.
"UN Women works for gender equality and empowerment of all women and girls regardless of age, race, ethnicity or sexual orientation."