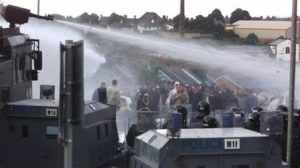 Library picture
A police water cannon used to control riots during the Northern Ireland "Troubles" has been sold on eBay.
The fortified vehicle – in need of restoration – is said to be the last surviving model.
Twelve bidders wanted the former Royal Ulster Constabulary 1970 Foden Pyrene truck.
It was bought for £3,100 by the military equipment firm Allsops of Bolton, Greater Manchester.
Jonathan Allsop said:
"It was an impulse purchase.
"I had never seen one before."
"We have had a lot of enquiries; a lot of people have come forward and told us about the engine.
"It has restoration potential and to be quite honest it should be restored."