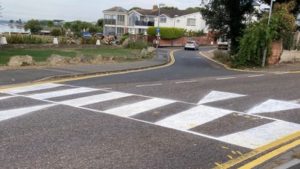 Pensioner Laurie Phillips has been fined £130 for painting his own zebra crossing on a busy road.
Laurie, 78, and his disabled wife struggled to cross the street near his home in Christchurch, Dorset.
So, he took action into his own hands after the local council repeatedly refused his requests for a crossing.
Starting work at 05.00 he spent hours painting his own crossing – including a 10-mph sign and illusionary speed bumps.
The ruse worked for four days with cars stopping to allow him and his wife Estelle to cross.
But council workers arrived to scrub out the crossing and report Laurie for "criminal damage".
He was fined £130 and given a community resolution order – which is not a caution or conviction.
Laurie said: "After lockdown was lifted last summer we were swamped with visitors and 5,000 cars were passing through each day.
"I communicated with the local Mudeford councillors and Vikki Slade, who was head of the council at the time, as well as the officers who are responsible for line painting.
"I gave clear warning that I would paint it if nothing was done.
"At no time did I have any response tell me I wasn't to do it or should not do it.
"I personally paid over £100 for materials and three of us took two hours each to paint it.
"The crossing was there for four days and it was respected by cars which stopped to let people cross.
"It worked and made the road dramatically safer.
"I was told well done by my neighbours but after four days the council came and washed it away."
A council spokesperson said: 'The situation regarding the illegal markings has been addressed and we can confirm that we have received a formal request for a crossing to be placed at this Mudeford Quay location.
"Safety remains, as ever, our primary concern."