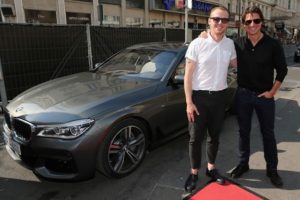 Library picture: Simon Pegg and Tom Cruise
Mission Impossible star Simon Pegg has been banned from driving after doing 63-mph in a 40-mph zone.
He was banned for six months after breaking the limit in his £66,000 Mercedes GLE 500 the A41 in North London.
He was caught by a speed camera.
It was his fourth speeding offence in the last three years.
The 50-year-old actor already had nine points on his licence.
The latest four handed out at Wimbledon Magistrates' Court took him over the maximum 12 allowed – triggering an automatic ban.
Magistrate Ms Deborah Drakesmith said:
"We have listened carefully to what has been said and looking at the guidelines we are going to endorse his licence with four penalty points, making thirteen penalty points and will disqualify him from driving for six months.
"The 63-mph reading is near the top end.
"I am sure you will give him the disqualification warning as to how serious it is to drive while disqualified."
Mr Richard Saynor, defending, said:
"Mr Pegg pleads guilty and takes full responsibility for the offence.
"He accepts the points imposed will lead to the risk of disqualification.
"He specifically instructed me that he does not want to use up the court's time arguing there are exceptional circumstances he should not be disqualified.
"The driving ban will cause him difficulties, but they will not be exceptional.
"He accepts the court will make a driving ban and it is something he accepts head-on."