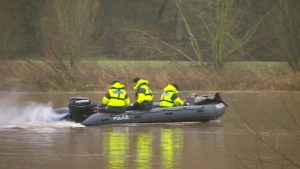 Divers with sonar equipment are searching a "treacherous" River Trent for two people believed seen in a car.
The blue vehicle was spotted being swept along in a strong current.
Its bonnet was nose down and the boot riding high in the water.
A car has been found but, despite several attempts, it's not possible to say if it's the missing vehicle.
The police believe they know the names of two people thought to be inside when the car entered the Trent at Hoveringham, Nottinghamshire.
The Trent is in full spate after endless rain and conditions are described as "treacherous".
Inspector Heather Sutton, of Nottinghamshire Police, said:
"Sadly, a witness reported that two occupants were in the car at the time it entered the river.
"While there has been no formal identification of the occupants of the vehicle, we do believe we know who they are.
"Their relatives have been informed and are being supported by specialist officers.
"Our thoughts are with them and they have asked for privacy at this difficult time."
Eyewitness Christopher Bulpitt said he saw the car drifting along the river.
He said: "I sat sitting having tea in our conservatory and this blue car floated down the river.
"The bonnet was down into the water; the back was sticking up a bit and it looked like two people inside."
Mr Bulpitt's wife Pauline added:
"It was quite shocking.
"My husband rushed to get his Wellington boots, hoping the car would come into the bank further up and we might be able to do something to help.
"There was another gentleman running down the field to see if he could do something to help but the car carried on down."