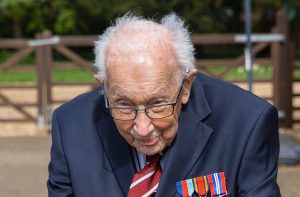 Captain Sir Tom Moore is in hospital fighting Covid-19.
The 100-year-old veteran was unable to receive a coronavirus vaccination because he has pneumonia.
A family spokeswoman said:
"Because of the medication he was taking for his pneumonia he couldn't have the Covid jab.
"But other than that, the information that was in his daughter Hannah's statement is all we can share at the moment.
"Everyone is sending positive thoughts his way."
In that statement Hannah said:
"I wanted to update everybody that today my father was admitted to hospital.
"He is being treated in a ward, although he is not in ICU.
"The medical care he has received in the last few weeks has been remarkable and we know that the wonderful staff at Bedford Hospital will do all they can to make him comfortable and hopefully return home as soon as possible.
"We understand that everyone will be wishing him well. We are of course focusing on my father and will update you when we are able to. Hannah x"
World War II veteran Sir Tom caught the nation's attention at the start of the pandemic.
He vowed he'd walk 100 lengths of his garden to raise money for the NHS.
His heroic efforts went on to collect more than £33 million.
He was duly knighted by the Queen at a special ceremony at Windsor Castle.
He also had a number hit in the chart with Michael Ball singing "You'll Never Walk Alone".
Sir Tom was born in Keighley, West Yorkshire.
He served as a Second Lieutenant in Burma and saw considerable action in what is known as "The Forgotten War".
When Sir Tom's condition was announced social media was flooded with get well messages.
Prime Minister Boris Johnson tweeted:
"My thoughts are very much with @CaptainTomMoore and his family. You've inspired the whole nation, and I know we are all wishing you a full recovery."
And Keir Starmer added:
"The whole nation hopes you get well soon @captaintommoore. You've been an inspiration to us all throughout this crisis."
Singer Michael Ball said:
"Love and prayers for @captaintommoore and his lovely family as he battles this bastard of a virus.
"Stay strong Sir. We are all here for you."