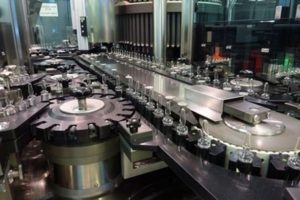 Picture: Wockhardt UK
A pharmaceutical plant making AstraZeneca's Covid-19 vaccine was evacuated after a suspicious parcel was found.
Bomb disposal experts went to the Wockhardt factory on the Wrexham Industrial Estate, North Wales.
The police threw a security cordon around the premises and closed all roads to traffic.
It's said the plant could produce more than 300 million vials of the vaccine.
Downing Street said it was aware of the situation and being regularly updated.
Wockhardt UK said in a statement:
"We can confirm that the investigation on the suspicious package received today has been concluded.
"Given that staff safety is our main priority manufacturing was temporarily paused whilst this took place safely.
"We can now confirm that the package was made safe and staff are now being allowed back into the facility.
"This temporary suspension of manufacturing has in no way affected our production schedule and we are grateful to the authorities and experts for their swift response and resolution of the incident."