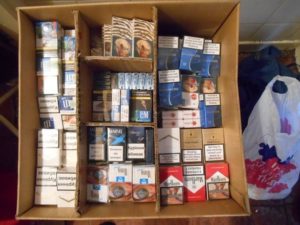 A shopkeeper has been found with 50,000 illegal cigarettes hidden away.
More than four kilos of hand-rolling tobacco were also seized by trading standards officers and the police.
Shop owner Daria Shorsh Namek hid in the toilet when officers arrived.
He claimed he only worked in the shop in Lincoln.
However, records showed he was the proprietor.
Namek, was given a six-months' suspended sentence at Lincoln Magistrates' Court.
He was also ordered to pay fines and costs of £1565.
Daniel Brown, trading standards officer, said:
"I hope this recent prosecution reinforces how dedicated Lincolnshire Trading Standards is to be tackling the sale of illicit tobacco.
"This kind of criminality serves to undermine legislation that is there is protect consumers and support local retailers that trade within the law particularly during this current economic climate.
"Selling illicit tobacco is not simply a tax evasion matter; these products are often counterfeit, made in unhygienic conditions and fund further criminality within organised crime gangs.
"In this case tobacco products were being stored on and around a working toilet."