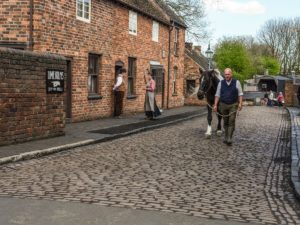 The Black Country Living Museum
A set used for the BBC gangster show Peaky Blinders is being used as a coronavirus vaccination centre.
The Black Country Living Museum is one of several sites made available for people to have their jabs.
The museum in Dudley, West Midlands, appears regularly in the show.
Councillor Nicolas Barlow at Dudley Council, said:
"This is a real game changer in our fight across the borough against the coronavirus.
"Having the Black Country Living Museum on board as a vaccination centre will greatly increase the amount of jabs we can deliver, and the speed at which we can administer them.
"It will make people safer from this deadly virus more quickly."
The museum is currently closed because of the lockdown restrictions.