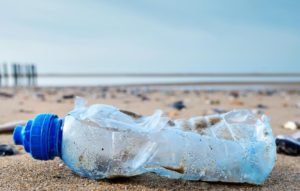 Britain's shops sold more than 2.5 billion plastic bottles of water in 2019.
Supermarkets alone sold the equivalent of 37 bottles for every person in the country.
Tesco was the biggest seller, moving more than 801 million bottles.
Sainsbury came second with 314 million.
The figures come from Greenpeace and the Environmental Investigation Agency.
The huge volume of sales comes as the world is being urged to cut back on plastics.
Nina Schrank, of Greenpeace UK said:
"Thousands of businesses and institutions across the world have already shown that it's perfectly easy to stop stocking disposable plastic water bottles.
"There's no reason why retailers cannot join the club.
"Reusable water bottles are already a part of everyday life for millions of people, who refill at taps and water fountains.
"If supermarkets are serious about reducing their plastic footprint, then dropping plastic water bottles and installing free water refill stations would be a big step forward.
"Plastic bottles and lids are the most common type of litter on our coastline, and particles of plastic have been found in every ocean and every river that has been tested."