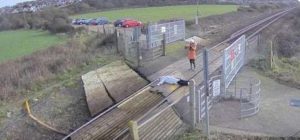 Railway officials are warning the public about a deadly new craze -lying down on train tracks.
A woman was filmed lying across a level-crossing at Tidemills in East Essex.
Trains rattle through the junction at more than 70 mph.
It's the 17th time in the last nine months people have filmed themselves at the crossing, with 15 recorded as "near misses".
Tracy Partridge, of Network Rail, said:
"We are concerned about repeated dangerous behaviour at Tidemills level crossing which follows the near misses which took place last year.
"We cannot stress enough the danger that people are placing themselves in when they don't use a crossing safely.
"A split-second decision can have life-changing consequences, not only for those involved but also for their family and friends, train drivers and railway workers.
"Please, never take chances when using level crossings and if you have any concerns, always contact Network Rail or British Transport Police."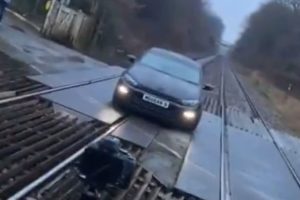 Last week a driver parked his car on a level crossing in Bolton and started filming.
The stunt was posted to TikTok with the caption:
"Would you take the risk to get the shot no-one else would?"
Insp Becky Warren, from British Transport Police, said:
"No picture or video is worth risking your life for.
"Never trespass onto the tracks – it's against the law and puts lives at risk."