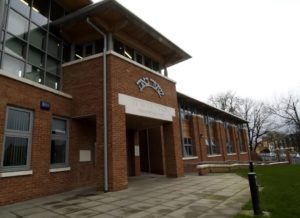 Picture: Yesodey Hatorah Senior Girls' School
The police broke up a wedding party in North London after reports that more than 400 people were at the celebrations.
Windows at the girls' school in Stamford Hill had been covered to hide the festivities.
After the police raided the premises the number of people attending was downgraded to 150.
The organisers face a £10,000 fine for allowing the reception to go ahead.
Five guests were fined £200.
A spokesman for the Yesodey Hatorah Senior Girls' School said they had no idea what was happening.
He added: "We are absolutely horrified about last night's event and condemn it in the strongest possible terms."
And a spokesman for the Prime Minister Boris Johnson said:
"We support the police for taking action against people who flagrantly and selfishly ignore the rules.
"Large gatherings such as that pose a health risk, not just to those who attend but those who they live with or others who they may come into contact with."
Det Ch Sup Marcus Barnett of the Met Police said:
"This was a completely unacceptable breach of the law.
"People across the country are making sacrifices by cancelling or postponing weddings and other celebrations and there is no excuse for this type of behaviour.
"My officers are working tirelessly with the community and we will not hesitate to take enforcement action if that is required to keep people safe."