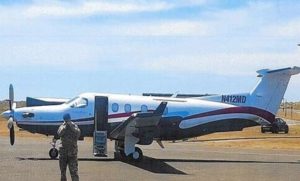 Picture: RAF Valley
Millionaire businessmen Richard Wood has been fined £4,000 for landing his plane at an RAF base.
Wood, 60, said he was looking for somewhere to spend a day at the beach during lockdown.
His jet touched down at RAF Valley in Anglesey – the base where Prince William was stationed as a helicopter pilot.
A court heard how Wood left his £4 million home in Chelsea planning to fly to see his mother in Yorkshire.
However, he piloted his 12-seater Pilatus PC-12 300 miles from Fairoaks Airfield in Surrey to the closed military base.
Elizabeth Dudley-Jones, for the Civil Aviation Authority (CAA) said Wood landed without permission from the control tower.
She said:
"Richard Wood had sought and been given permission to fly to Yorkshire and back that day.
"Ordinarily when RAF Valley is open civil aircraft will be expected but permission must be obtained 24 hours prior to arrival.
"On 25 May 2020, the airfield was closed due to it being a public holiday.
"Requests for civil aircraft to land at RAF Valley had been refused and there was no air traffic control available.
"In any event, there was a ban on civil aircraft landing due to Covid-19 restrictions and military aircraft landing themselves were severely restricted."
Miss Dudley-Jones said a fire officer saw the plane above the base and assumed it was "in distress and this was an emergency".
She said: "He raised the alarm and fire crews were deployed."
When the fire officer asked Wood why he'd landed he replied:
"I wanted to see the beach".
The pilot's initial attitude was described as "flippant and arrogant" until he realised the seriousness of the events.
Wood admitted at Caernarfon Magistrates' Court illegally landing and taking off from the base.
He did not attend and was not represented.
In a letter to the court, he said:
"I have learned from this experience, have taken many hours of training and flight testing since this day and now have my full UK licence.
He described himself as "an experienced pilot who sees flying as a great privilege to be taken seriously."