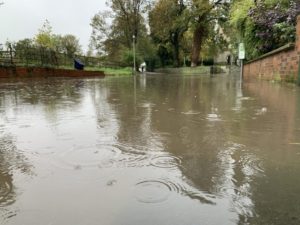 A major weather incident has been declared as Storm Christoph is set to batter Britain.
Forecasters say the storm will bring widespread flooding, gales and snow to parts of the country.
There is a "danger to life" and the fear some communities could be cut off by flooded roads.
People have been warned to be prepared to evacuate their homes.
Nearly three inches (70 mm) of rain is expected across Manchester, Leeds and Sheffield.
In parts of the Pennines up to eight inches of rain (200 mm) is predicted.
Heavy rainfall in the Peaks floods into rivers and streams that feed the River Trent in Nottinghamshire -causing widespread local flooding.
Catherine Wright, acting executive director for flood and coastal risk management at the Environment Agency, said:
"That rain is falling on very wet ground and so we are very concerned that it's a very volatile situation and we are expecting significant flooding to occur on the back of that weather.
"We won't know exactly what happens until the water gets on the ground, but this is the time to take action and be ready and prepared for that flooding should it occur."