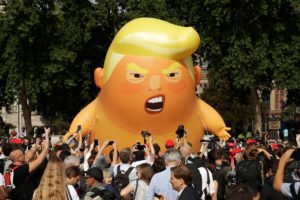 The Donald Trump baby blimp – part of a protest against the President's state visit to Britain – is destined for a museum.
The giant inflatable – first seen in Trafalgar Square – is going to the Museum of London.
The 20ft effigy will be part of its "protest collection".
The blimp creators hoped it would serve as a reminder of the plight against the "politics of hate".
A spokesperson said:
"While we're pleased that the Trump Baby can now be consigned to history along with the man himself, we're under no illusions that this is the end of the story.
"We hope the baby's place in the museum will stand as a reminder of when London stood against Mr Trump – but will prompt those who see it to examine how they can continue the fight against the politics of hate.
"Most of all we hope the Trump Baby serves as a reminder of the politics of resistance that took place during Trump's time in office."
Sharon Ament, the museum's director, said:
"Of course, the museum is not political and does not have any view about the state of politics in the States."
"But the blimp does encapsulate the very British response to politics – satire.
"We use humour a lot.
"And we poke fun at politicians.
"This is a big, literally, example of that.
"To some it's a joyous object, it makes you smile, it makes you laugh because it's satirical."
Ms Ament added:
"It [the blimp] was born in London.
"It was an extraordinary and imaginative idea.
"It is timely because it's coming to us in the final days of President Trump being President Trump."