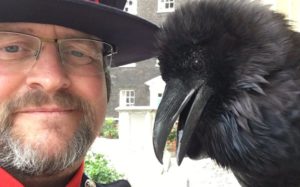 Picture: Ravenmaster Skaife and Merlina
The Tower of London's "Queen" Raven has gone missing – and feared dead.
Merlina was last seen several weeks ago.
She had been at the Tower for the last 13 years.
However, six ravens remain – warding of the prophecy that if they all leave the country will fall.
King Charles II decreed ravens must be kept at the Tower at all times.
The Ravenmaster, Yeoman Warder Christopher Skaife, said:
"I know so many of you lovely folk will be saddened by this news.
"None more than me.
"Please excuse my absence for a few days."
And a Tower spokesman said:
"Merlina's continued absence indicates to us that she may have sadly passed away.
"Merlina was our undisputed ruler of the roost, Queen of the Tower ravens.
"She will be greatly missed by her fellow ravens, the Ravenmaster, and all of us in the Tower community."