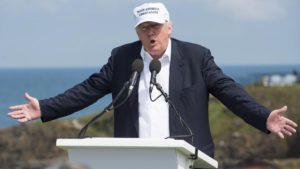 Outgoing US President Donald Trump has been snubbed by the world of professional golf.
Both the R&A in Britain and the PGA in America have said they will not use Trump owned courses for prestigious tournaments.
The decision follows Trump's apparent "incitement" of a mob to invade Capitol Hill in Washington.
Five people, including a police officer, died as the building was stormed.
The Open Championship – the world's oldest golf competition – is played at Turnberry in Scotland.
It has hosted the competition four times.
Golf mad Trump bought the course in 2014.
Martin Slumbers, R&A CEO, said:
"We will not return until we are convinced that the focus will be on the championship, the players and the course itself and we do not believe that is achievable in the current circumstances."
The decision follows the PGA of America saying the 2022 PGA Championship will not be played at the Trump National Golf Club in Bedminster, New Jersey.
Jim Richerson, PGA of America President, said:
"It has become clear that conducting the PGA Championship at Trump Bedminster would be detrimental to the PGA of America brand."
The Trump Organization owns or manages more than 12 golf courses around the world.
An Organization spokesman said they were "incredibly disappointed" with the decisions.
He added:
"We have had a beautiful partnership with the PGA of America.
"This is a breach of a binding contract and they have no right to terminate the agreement.
"As an organisation we have invested many millions of dollars in the 2022 PGA Championship at Trump National Golf Club, Bedminster.
"We will continue to promote the game of golf on every level and remain focused on operating the finest golf courses anywhere in the world."