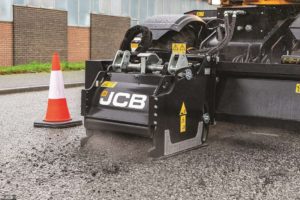 Digger giant JCB has designed a machine that can fill potholes within minutes.
The Pothole Pro – costing £145,000 – does the work of three machines to mend the scourge of Britain's roads.
The kit has been trialled in Stoke-on-Trent.
It has been mending holes in eight minutes – increasing repair times by 700 per cent.
JCB claims the digger halves the cost of pothole fixing used by councils and highways agencies.
Lord Bamford, JCB chairman, admitted he was "personally fixated on finding a solution" to clear up the nation's roads.
He said: "We simply cannot allow our road network to continue to be blighted by potholes.
"JCB's solution is simple and cost effective and fixes potholes permanently, first time.
"Once the machine has done its job all the contractor then needs to do is just add tar."
In testing, the digger completed 51 road repair jobs in 20 days.
A team of up to six operatives would have needed 63 days to fulfil a similar job.