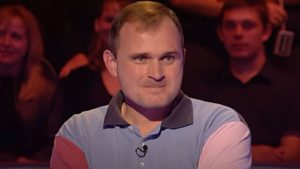 Former Major Charles Ingram – convicted of cheating on "Who Wants To Be A Millionaire" – has blasted a documentary about the ITV show.
Ingram, 57, his wife Diana and accomplice Tecwen Whittock, were found guilty in 2003 of Procuring the Execution of a Valuable Security by Deception.
A court heard how Ingram's answers were "directed" by Whittock's coughing.
The verdict came two years after he won the £1 million top prize on the quiz show – then presented by Chris Tarrant.
The Ingrams have always maintained their innocence.
A documentary looked at the infamous episode – which was never screened.
Ingram said:
"This was disappointing.
"Same old orchestrated content.
"[We] expected more from Stellify Media (the production company).
"It's hard proving these people wrong and in the face of their relentless BS but we will and the truth will out.
"Those who deceived then profited must be held to account.
"Truth matters folks."
"It's bizarre that in England the 'victim' can produce, control and influence all evidence.
"Telling too they consider it necessary to keep issuing public declarations of 'GUILTY'. "